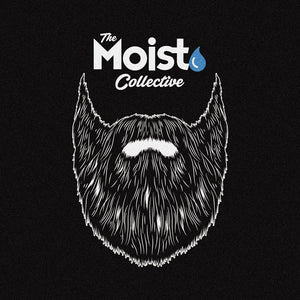 Introducing The Moist Collective
It all started with a beard and a dream…
A dream that this damn thing would stop itching. And be less bristly. And smell better. And be less oily.
 You get the idea.
 But it turns out, a solution exists.
 And since we're staunchly anti-shaving and didn't want to break the bank on some hipster product, we decided to make our own. We came to grips with the fact that yes, real men groom their faces. We looked at the competition, then made something better. 
 And the best way to keep your beard and face feeling fresh is to keep it moist. 
We're The Moist Collective
We're a group of guys in Levittown, Pennsylvania that decided it was time to make our face clean and comfortable. 
Straight up: We know beards. Our cheeks haven't seen the light of day since a Bush was in office and Transformers was just a cartoon with a dream. We don't just grow them out for the playoffs or No-Shave-November, we wear our manhood proudly year-round. We don't take any days off, and guess what? Neither does your face.
That's why you need to take care of that thing. 
If you embrace your inner mountain man and let your face fur fly, you know that sweat and leftovers aren't the best care plan. Sadly, you can't rely on nature to provide. 
We've found that it's much more comfortable if you treat your beard like it's actually a living member of your face. After all — you wash your hair, so why don't you wash your beard? 
But if you haven't figured it out already, the hair on your face is different than the lettuce on your noggin. That's why we created our line of beard wash, beard oil, and beard butter. It's the ultimate trifecta of beard care.  
We stand behind our products because we actually make and use them ourselves. We craft our wash, oil, and butter in small batches with our own mitts right here in the good ol' US of A. 
Busting the Beard Myth
How many times have you looked at a "legitimate" mountain man going full Paul Bunyan and thought dammit, I could never grow a beard like that. 
We'll let you in on a secret: Chances are, that dude uses performance enhancers.
No, we're not saying he's on the juice. But we're willing to bet he's taking care of his face nest. That means a strict regimen of beard wash, beard oil, and beard butter. 
We got tired of aspiring to grow a better beard and made high-quality products to help us be proud of what we've got. And comfortable, don't forget that.
 The Moist Collective is here to help you embrace your inner man. Now be bold and toss the razor.
And the best way to keep your beard and face feeling fresh is to keep it moist.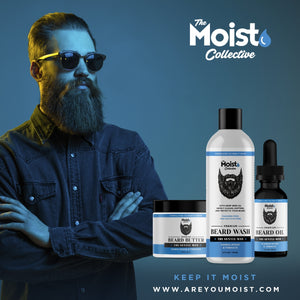 Testimonials
Nothing gets me going like a moist man. My husband's beard looks good, smells good and feels good! We both love the smell of The Gentleman.

Tina H.